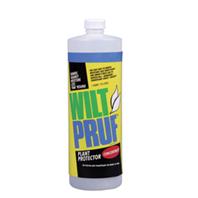 Reduce moisture loss when plants are under stress due to winter kill, windburn, transplant shock and drought. Dries to form a clear and flexible protective coating without interfering with plant growth. Protects plants when roots are frozen in the winter. Protects tender transplants while their root systems are developing. Protects and extends the life of christmas trees and wreaths by reducing moisture loss. Made in the USA
Ingredients:
An Organic Polymer Consisting Entirely Of Carbon And Hydrogen.
Wilt-Pruf Products, Inc. - Wilt-Pruf Plant Protector Concentrate--1 Quart product is categorised under Wholesale Other Brands, PA products, Wholesale Garden Supplies, Wholesale Made in the USA.