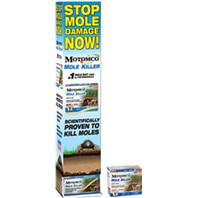 Note: This product is restricted to HI,NY.
Scientifically designed and tested to mimic a mole s natural food source. Ready to use. Effective against most common mole species. Made in the usa. .
Motomco - Worm Mole Killer Gravity Feeder Display-12 Pc product is categorised under Wholesale Motomco products, Wholesale Garden Supplies, Wholesale Lawn & Garden, Wholesale Displays.