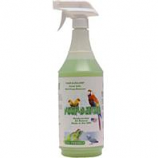 A&E Cage Company - A&E Poop-D-Zolver - Green - 32 Ounce
UPC:
644472015249 (# 001642-102945-AE PD32)
Almost instantly removes bird poop by enzyme producing non-pathogenic bacteria to naturally digest the poop
Can be used in and around the cages, floor, walls, stainless steel, aluminum or glazed porcelain and other surfaces
Suggested Retail price:

$16.19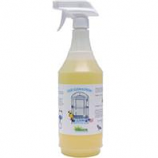 A&E Cage Company - A&E Clean-N-Fresh -Yellow - 32 oz
UPC:
644472015294 (# 001643-102946-AE CC32)
Provides a deep micro cleaning action on all bird cages and apparatus. Leaves a pleasant fresh scent that is all natural. Proudly made in the usa. . .
Suggested Retail price:

$16.19