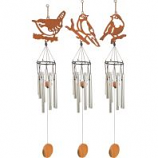 Esschert Design Usa - Wind Chime Bird Assorted
UPC:
714982104701 (# 010049-111978-WV17)
Perfect for placement on the porch or patio. For those who love the melodic tone of wind chimes or slide the leaf up and quiet the chimes.. . . .
Suggested Retail price:

$14.99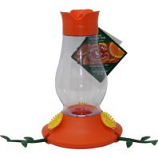 Woodstream Hummingbird - Perky Pet Plastic Vine Oriole Feeder - Orange
UPC:
078978641280 (# 684029-113898-465-2)
Built in ant moat keeps ants away. Simply fill with water!. Shatter resistant plastic bottle. Optimized ports for easy and comfortable nectar access. Built in bee guards protect nectar supply. Sealed base design minimizes leaks and spills and comes apart for easy cleaning.
Suggested Retail price:

$11.29